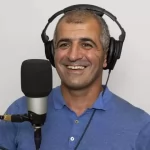 Padid Talebpoor – "Runfeeling has made me faster in running, swimming and cycling"
Padid has been training and competing in the longest distance, the Ironman, for four years, and this spring he had problems with one calf that prevented him from running. After only a few trainings at Runfeeling, he was pain-free and ran faster than he had ever done before.
What is the difference between Runfeeling and other running coaches? And how come the Exercise Training has helped Padid become faster in swimming and cycling as well?
The results that Padid Talebpoor has received mean that he even begins to suspect that he may, perhaps, qualify for the Ironman World Championships in Hawaii sooner than he thought!
Signatur: Walking back to happiness med Helen Shapiro. Tekniker: Ola Dyrhill. Programledare: Wivan-Kristina Sandberg.