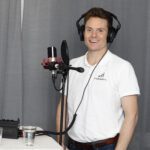 So how we move is important, but where can we start to create a change in our movement pattern?
Why can some people make a difference quickly while for others it can take longer?
Walkfeeling's founder and CEO, Tommy Olausson, talks together with Wivan-Kristina Sandberg about changes in movement patterns can be for different people.
Signatur: Walking back to happiness med Helen Shapiro. Tekniker: Ola Dyrhill.