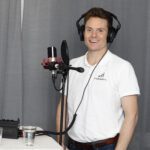 Walkfeeling's CEO and founder Tommy Olausson talks about the benefits of collaborating with your body as a team.
In a football team and in a workplace, collaboration and working as a team is important, but does it also apply to an individual golfer?
If individual parts of the body work better, how is the whole body affected?
podd@walkfeeling.se
Signatur: Walking back to happiness med Helen Shapiro.Tekniker: Ola Dyrhill.